Gangaur
(Rajasthan)
The most important local festival in Rajasthan, Gangaur celebrations last for eighteen days. It is dedicated to Gauri, a manifestation of goddess Parvati. The festival is celebrated by girls and married women throughout Rajasthan. The images of Gauri are ornameneted and offerings are made. This is also an auspicious day for young people to select their life partners.
Pushkar Mela
(Pushkar, Rajasthan)
Tranquil Pushkar is transformed into a spectacular fair ground for twelve days in the month of Kartik. Trading of cattle, camel races and dazzling displays of bangles, brassware, clothes, camel saddles and halters are the major attractions of this colourful event. Devotees come in their thousands to take a ritual dip in the lake on the day of the Kartik Purnima and to worship at the Brahma temple.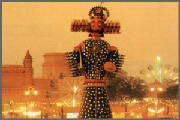 Dussehra
(All over India)
Celebrated to mark the defeat of Ravana by Lord Rama, Dussehra symbolizes the triumph of good over evil. The Ramlila - an enactment of the life of Lord Rama, is held during the nine days preceding Dussehra. On the tenth day, larger than life effigies of Ravana, his son and brother - Meghnath and Kumbhakarna, are set alight.